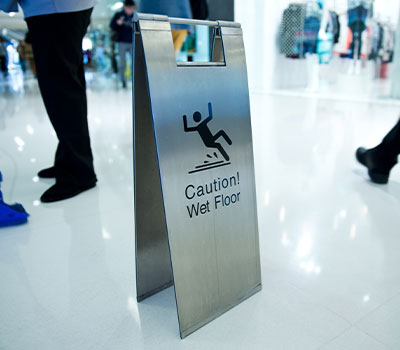 Slip And Trip Compensation Claims
There are numerous situations where you may be involved in a slip or trip accident. This could be on the street, a pot hole in the road or even in a supermarket.
If you have suffered injuries following a slip or trip, you may be entitled to compensation for your injuries.
Contact us for help and advice today.
Call FREE on 0800 3 10 11 12 Or Contact Us Online
We don't just act for clients on accident claims in Corby and Kettering, we act across the United Kingdom. We are not a middleman claims company.
We are specialist accident compensation claim lawyers.
We will always fight on your behalf and make sure your claim is dealt with quickly and ensure that you receive the maximum amount of compensation.
We are members of the Solicitors Regulatory Authority Personal Injury Panel which is only open to solicitors who have high levels of experience and expertise in dealing with accident claims.
Slip / Trip Accidents On A Public Highway
The only way a Highway Authority can escape liability for a trip or slip accident is if it proves under the Highways Act 1980, that it took such care as was reasonable in all the circumstances.
Section 41 of the Highways Act 1980, states that Highway Authorities (usually local or county councils) have a general duty to maintain the highway at the expense of the public. If you have a trip or slip accident and the Highway Authorities have not fulfilled their duty you may be able to make a claim.
To succeed three things must be proved:
The road is in a condition as to be dangerous to traffic
The dangerous condition was due to a failure by the Highway Authority to maintain the road
The claimant had an accident and suffered injuries as a direct result.
There are many trip or slip accident cases of this type that have gone to Court. One important aspect is to establish what is meant as being dangerous. A popular view is that a depression of more than one inch in a pavement will always be dangerous if a trip or slip accident occurs. Less than one inch may or may not be dangerous depending on the facts of each individual case.
Each trip or slip accident is different and will be decided on its own facts.
Slip / Trip Accidents In A Shop
Naturally there are many trip or slip accident claims in this area and each case will turn on its own facts. The provisions of the Occupiers Liability Act 1957 do apply. There is however a classic trip or slip accident involving a person who had a trip or slip accident on some yogurt in a supermarket.
The Court decided that once the Claimant had proved that they had actually had a trip or slip accident on the yogurt that it was then up to the supermarket to show that the accident did not occur from any want of care on their part. If the supermarket could show that they had a proper and adequate system to provide for the safety of customers and that it was in operation then they might be able to escape liability for the accident.
The Occupiers Liability Act 1957 covers many different accidents that occur on privately owned land such as people's own homes and gardens, hotels, council houses, shops, sports arenas, places of employment and effectively any privately owned land or building.
The Occupiers Liability Act 1957 provides that the occupier of premises is under a duty to take such care as in all the circumstances of the case as is reasonable to see that any visitor will be reasonably safe using the premises for the purpose for which he is invited or permitted by the occupier to be there.
If a trip or slip accident occurs and the occupier has not taken a reasonable duty, you may be able to make a claim.

Personal Injury & Accident Claims – No Win No Fee!
If you have slipped or tripped over and are thinking about making a claim, then please call us.
If we take your claim on, we always work on a No Win No Fee basis.
Call FREE on 0800 3 10 11 12 Or Contact Us Online