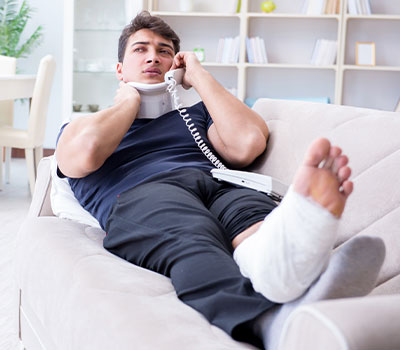 Product Liability
If you purchase a product from a retailer, they are under a duty to ensure that the product complies with the relevant health and safety regulations.
If you injure yourself from using a product bought from a business then you may be entitled to bring a claim and receive compensation for your injuries.
Contact Our Personal Injury Team Online
We don't just act for clients on accident claims in Corby and Kettering, we act across the United Kingdom. We are not a middleman claims company.
We are specialist accident compensation claim lawyers.
We will always fight on your behalf and make sure your claim is dealt with quickly and ensure that you receive the maximum amount of compensation.
This is an area of law relating to manufacturing, distributing, supplying and retailing. In essence, is people that make products available to the public. It means that they can be held responsible for the injuries those products caused.
By law, products sold to consumers must be safe. Companies must warn consumers about potential risks, monitor the safety of products, take action if safety problem found amongst other things.
The main responsibility for product safety falls on producers including manufacturers, importers, businesses own-brand products and business that change safety of a product.
Usually there are numerous businesses involved as producers and can be jointly liable if a product causes a consumer harm.
Retail shops and wholesalers are not normally liable for harm, as long as they can identify the consumer.
Anyone who is harmed by an unsafe product could sue the producer. The case can be begin up to 3 years from the date of the injury. In some cases, they can even sue up to 10 years after the product was sold.
In general terms, the injury you suffered must be directly attributable to the unsafe product. Your injury must last at least 6 weeks and be evidenced with medical appointments etc.
If you have been harmed by an unsafe product, and the producer is found liable, it is likely that the Court will order for the producer to pay you compensation.
The producer can be sued for compensation for death or injury. The amount that can be claimed will depend on the harm suffered and there is no 'maximum' amount.
If someone takes action against your company under product liability laws, you should initially consider who is liable. If you are a distributor, such as a retail shop, you may not be liable if you can identify the chain of distribution.
If you are the producer, and believe the fault was caused by a problem in your production process, you may want to admit liability and settle the claim. If not you will have to prove one of 6 defences:
  You did not supply the product e.g. could be a fake copy
  You could not reasonably be expected to discover the safety fault
  The safety fault was inevitable result of obeying other laws
  Someone else caused the fault after you supplied the product
  You didn't supply the product in the course of business
  The manufacturer who assembled the product caused the fault
Contact Our Team Of Legal Experts Online