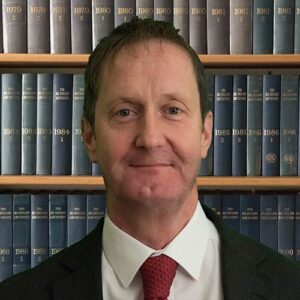 Key Services
Wills
Lasting Powers Of Attorney
Probate
Residential Care Protection
Settlement Agreements
Trusts
Probate Disputes
Contact Information
Switchboard: 01536 276300
Direct Dial: 01536 276322
Mobile: 07545235980
Fax: 01536 276333
Email: adrian@seatons.co.uk
Experience/Expertise
Adrian has over 30 years as a practicing solicitor. He has extensive dealings with private client matters, including Wills, Lasting Powers of Attorney, Probate, Estate Administration, Trusts, and Settlement Agreements. Adrian is a member of the Society of Trusts and Estates Practitioners and Solicitors For The Elderly. Adrian is a friendly, approachable and caring lawyer who is willing to go the extra mile.
Personal
Adrian left school in 1978 to join a local firm of Solicitors as an office junior. He attended evening classes to study for a degree part-time and was awarded an L.L.B. (Hons) in 1985.In 1986 Adrian qualified as a Fellow of the Institute of Legal Executives and in 1988 Adrian then qualified as a Solicitor. In 1987 Adrian joined Seatons and in 1993 he became a Partner in the firm
Where were you educated? St Andrews/Stamford Road Schools Kettering – Leicester Polytechnic
First Job: Office Junior
Hobbies: Triathlons, keeping fit, socialising, playing backgammon and going to music festivals
If you could change a law, which one would it be? Increased Funding for the Community Legal Service Scheme (Legal Aid) – The current scheme is woefully underfunded and causes genuine difficulties for people gaining access to justice.
Favourite Food: Mexican – (Favourite Snack – Salted Peanuts)
Favourite group or band: The Flaming Lips ( Best live band in the world ) – The Beatles – Steely Dan
Ultimate holiday destination: World Cruise and ultimately in the future to get into Space (You never know)
Favourite book: Man on the Moon by Andrew Chaikin, Revolution in the Head by Ian Macdonald, Anything by Terry Pratchett or P.G Wodehouse or AC Grayling.
Favourite sport: Football – Kettering Town – (Favourite Premiership Team – Arsenal) (Favourite Footballer – Roy Clayton)
Most admired figure(s): My Dad.
Most admired historical figure(s): Jesus/Gandhi/Nelson Mandela/ Martin Luther King (Results by peaceful means)
Likes: My Family – Cinema – Music – Socialising – Beer – Art – Red Wine – Libraries – Stewart Lee – AC Grayling – Northern Soul – Jane Fonda – Tigger – Apollo Moon Shots – Museums – Black Mirror
Dislikes: Traffic Jams – Rude/Ignorant People – Unfairness – Reality TV – Hangovers – Bad Manners – Laziness – Red Tape – Celebrities – The Archers (particularly that Dum de dum de dum de dum – aarrgghh)
Personal ambition(s): To live a more loving, enjoyable and happy life.
What do you watch on TV? Mostly Films but otherwise – Simpsons – South Park – Frankie and Grace – Star Trek
If you won the Lottery, how would you spend it? Very easily – The list is almost endless but would include a Porsche 911, family treats and a World Cruise
Who is the most influential person in your life? My family, my wife Christine, my daughters Sarah and Claire, my Dad, Bill, and my friend Sunil Bali.
Adrian is a member of the Society of Trusts and Estates Practitioners, Solicitors For The Elderly and STEP.